Real GOOD News:
ACCIÒN GORILA #1
5 of June 2014, kl. 18-20. Charlottenborg Kunsthall.
Presents: Lecture by Florian Schneider & Performance Another 12 by Sara Gebran (ACCIÒN GORILA Program)
ANOTHER 12
Premier 5 of June 2014. Charlottenborg Kunsthall, under ACCIÒN GORILA #1
Another 12 is an investigation on translation, emancipation and composition. Translation comes after the original, thought it develops from it, undergoing a transformation and a renewal, towards an after life. All translations mark their stage of continues life, so the translation of the audience continues as surrender from the original, an "afterlife continuum" without the mediation of given meaning. While the work explores the possibility of the emancipatory relations between the parts to the whole, as well as in the passages from medias, in order to liberate the parts, from the relations that bounds the original to the translation, the maker and the viewer, the parts and the whole, opening up for new spaces in between them, as collective spaces for new relations and new meanings to emerge. 32 artists from different disciplines and countries translated images from another project, chosen by her, into a movement phrase, resulting in their translation of 32 dance phrases of maximum 2 minutes each. Developed in Collaboration with Rebecka Stillman.
20 PLUS
23 of May 2013. Kungliga Konsthskolan (Swedish Royal Institute of Art, Mejan), at MDT. 20 Plus is the second solo of a series of three solo performances related to one another by a similar starting point – with different compositional arrangements, based on translating images into movements. For this short experiemnt, the translators were the visual art, and architect participants from Mejan.
MAXIMUM SPACES
Maximum Spaces continues, all artists can become members, subscribe here: (Maximum Spaces)
A system for re-using and re-gaining our urban commons, access to spaces, without curatorial filters… (Manifesto)
SPRING TOUR 2013
23/05, "20 plus" MDT, Stockholm, 19.30. Invites artists and architects whom are taking part of the post studies course "Aspectivity" at Kungl. Högskolan in Stockholm, with their 2 minutes of a movement phrase, investigating interpretation, perception and aesthetic.
16/03, "Re-enactment on Representation: A lost prelude - a fake re-enactment of Ivana Müller's While we were holding it together" Asterions Hus, Copenhagen, 21.00
12-14/03 "How to get the water into the tire?", Dansens Hus Stockholm, 19.00
WAXING IMMOLATION
A self-immolation for the female gender's full emancipation and the final uprising of the women's rights movement by waxing out the taboo of bodily hair. This project was developed out of sharing Sara's artistic practice with the Swedish audience. 2 pseudo lectures are shared: Hammam as the ultimate emancipatory space for the Middle Eastern woman and a re-definition of Donna Haraway's Cyborgmanifesto for women.
Concept and performance: Sara Gebran
HOW TO GET THE WATER INTO THE TIRE?
The performance focus on the displaying of multiple meanings, put against a none dramatized aesthetics. The subject of control is addressed as an inescapable problematic, working with dislocated artistic tools in other cultures and communities. The totalitarian regime of perception crucially increases during the show, until control is released from the performer to the receiver in the final dance sequences, leaving the audience perceive without mediation. Sara dances 20 movement phrases given to her by 20 artists from different countries, as their interpretation of 5 photographs they received from her. This images are also from another project and reality. A 20 Light designers from Stockholm translated those phrases into a light for each phrase. The work is a passage from medias, from the reality, to the images, to the movements, to the light.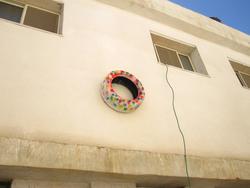 Concept & performance: Sara Gebran.
Dramaturgy: Anders Paulin.
20 artists movement phrases of 2 minutes: David Zambrano (Choreographer, performer, teacher, Be/Vz); Mette Edvardsen (Performing artist, Be/No); Paula Caspao (dramaturge, researcher, writer & intermedia artists, Fr); Yukiko Shinozaki (Choreographer, performer, Be/Jp); Célia Fechas (Actress, Be/Pt); Anna Koch (Choreographer/director of Weld, Se); Tor lindstrand (Architect, Se); Vera Nevanlinna (Choreographer, performer, Fi); Hildegard de Vuyst (Dramaturg KVS, Be); kai & Sviata (Scientist reserachers); Manuel Perez (Dancer, Be/Vz); Meike Shalk (Architect, De/Se); Yazan Khlaili (Photographer/architect, Pl); Astrud Angarita (Dancer, Vz); Anders Mosslim (Actor, Se/Dk); Mathias Kryger (visual artists, Dk); Lars Persson (Producer of 3r: Väningen, Göterborg/Se); Tara Motazedkivani (Dancer, Se); Erik Pold (Performing artists, Dk); Kajsa Sandström (Choreographer/dancer, Se)
20 light designers from Stockholm made light for the 20 movement phrases by the 20 artists: Jimmy Ström, Sanna Strokirk-Lilja, Erik Berglund, Jenny André, Bengt Gomér, Sofie Anderson, Kalle Svensson, William Wenner, Katti Alm, Linus Fellbom, Magnus Mikaelsen, Lina Benneth, Patrik Bogårdh, Torkel Blomqvist, Mimmi Helleday, Chrisander Brun, Emma Westerberg, Markus Granqvist, Elin Holmberg Klasén, Lumination.
Light Concept: SUTODA. Light Coordinator: Erik Lindvall
. 100 Photographs: the children from Jalazoun Refugee camp, Anders Paulin, Ylva Henrikson, Sara Gebran & the people passing by.
Supported by: Kunststyrelsen (Danish Art Council) and Kulturrådet (Swedish Art Council).
Residencies: SITE office and Dansens Hus in Stockholm. Produced by Public Eye: www.public-e.dk Video documentation: Ylva Henrikson

Links to Vertical Gardening 2010: (
Facebook), (
Vimeo)
"RE-ENACTMENT ON REPRESENTATION: A lost prelude - a fake re-enactment of Ivana Müller's While we were holding it together"
The work is a fake re-enactment of Ivana Müller's work "While we were holding it together", it is a manifesto for 'imaginative' change in the arbitrary use of power, while it is a protest for the exploitation of artists as free workers. Has the dominated just awaken?
ARTIST-S TALK
OUTBREAK - arts & education
August 31st, from 9:00-16:00
The public is invited to speak their mind on the topics: what type of art education is necessary today? How can we envision a new institution of education to achieve it? the discussion will be followed by a dynamic seminar with international artists and theoreticians, sharing their experiences working in art educational institutions. 
Key note speakers: Paola Caspão (writer, researcher, dramaturge); Radikal Pedagogy (visual artists: Lisa Nyberg & Johanna Gustavsson funders of Malmö Free University for Women); Joachim Hamou (visual artist, director); Tor Lindstrand (architect, visual artists, professor at the Royal Institute of Technology.) & Karen Vedel (researcher and dance historian)
registration & program: www.teaterskolen-efteruddannelse.dk
performances by the 4th year dance students from 17:00-18:30
an event by The Danish National School of Performing Arts/ Statens Scenekunst (SKS), a new name that follows the structural reform of the earlier Danish National School of Theatre & Contemporary Dance.
(Program)
(Read the public comments on arts & education at the OUTBREAK and write your comments here)
From August on, Sara is the new director of choreography at the Danish National School for Performing Arts.
Tour 2012:
"Re-enactment on Representation: A lost prelude - a fake re-enactment of Ivana Müller's While we were holding it together", ICE HOT show case, Helsinki 13. dec.

"Waxing Immolation", MDT stockholm, 28 september.

"How to get the water into the tire?" 100° festival, Sophiensaele/Berlin, 26. February at 17:00

"How to get the water into the tire?" IETM Copenhagen the 29th of March, at Overgaden art space. A share night of 6 artists called Quadraphonic and now Multiphonic, time: 17:30-20:30 (Quadraphonic)

"How to get the water into the tire?" End of May, SITE studio/Stockholm (Public Eye)