La Santa Lucha vs Royal Rumble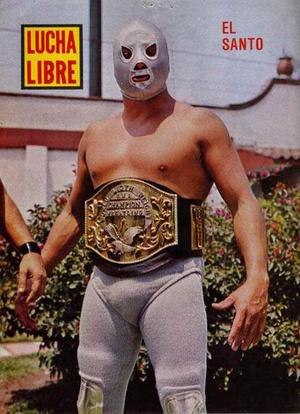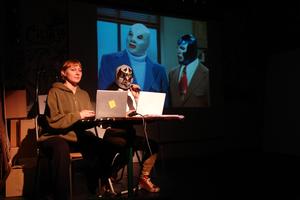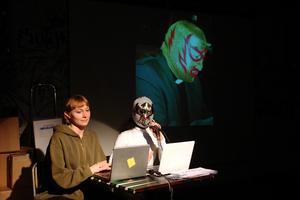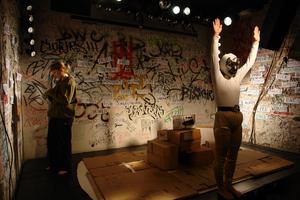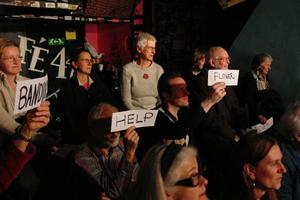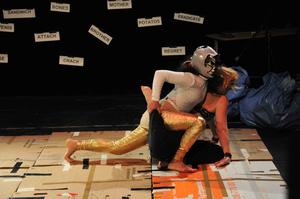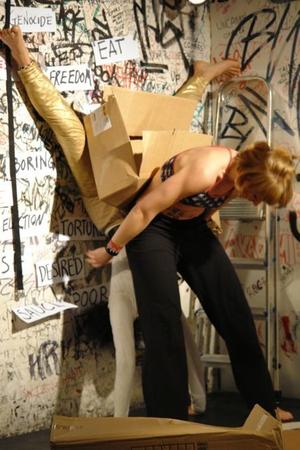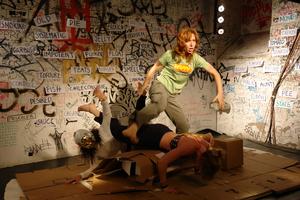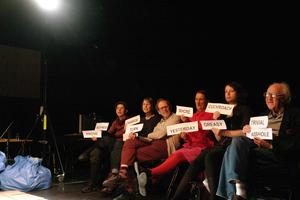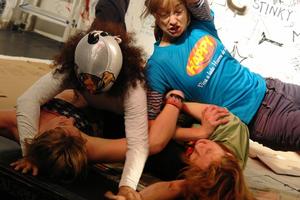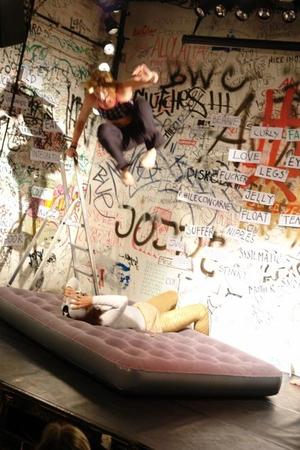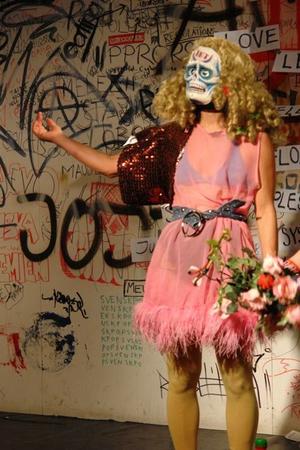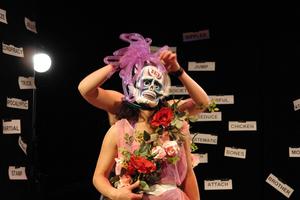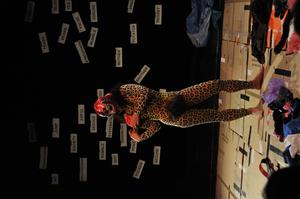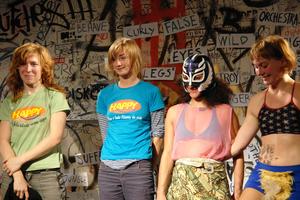 2009
A feminist female work about the mythological, political and social aspects of Mexican "Lucha Libre" (free-fight-wrestling). A live Art work, created as a lecture and performance. It is a match between the 'Host' and the 'Guest' representing the "Good" vs "Evil", searching for the local heroes the audience might need, for themselves or for their society. Control is exercised through the 100s of words written by the audience and spread around the space. The work is performed by Ylva Henrikson & Sara Gebran vs 2 to 5 invited women as guests from the city visited, sharing this new female wrestling practice, or fake practice.
Lucha Libre springs from societies like Mexico with deep socio-economical class difference, giving birth to this unique heroic figures of 'luchadores emascarados' (masked fighters), a real live heroes, who can be seen, heard and touch, and who brings hope to the misplaced and poor people of the country. But why are heroes only necessary in this countries?
"… Sickly wonderful… There is no other explanation for my complete love to Sara Gebran's dry seminar about Mexican free-wrestling, her crazy lycra-outfits and her lovely wrestling match with Ylva Henrikson and Luisa Denward. Gebran is like a latin american relative to Liz Aggiss!" - Liv Landell Major, www.nummer.se, Riksteatern, 23.05.09
*"… Its fascinating to experience this "exotic" world, which heroic status the masked Gebran problematizes in a joyful spirit… 'la Santa' Gebran manages to put on cultural mentalities, faked or real. Beautiful…"** - Anna Ängström, Svenska Dagbladet, 28.10.09
Trailer:
La Santa Lucha vs Royal Rumble
(trailer)
Support: Danish Art Council (Kunststyrelsen), Swedish Art Council (Kulturrådet), City of Stockholm Art Council (kulturförvaltingen) & Danskonst Teater 24 Kvadrat meter, Göterborg.
Credits: Choreography & concept: Sara Gebran. Dance in collaboration with Ylva Henrikson. Two guest performers in every city visited (female). Dramaturge: Anders Paulin. Costume & Set Design: Sara Gebran. Leotards costume by: Sara Sachs. Press photos: Anders Paulin. Video documentation Yva Henrikson
Tour spring 2011: 12 Feb Roxy Theatre, Basel, 17 Feb TPAM, Yokohama, Japan, 15 April Fylkingen, IETM Stockholm.
Tour 2008-2009. Presented in Upsala Stadsteatern, Moderna Dansteatern, 24 Kvadrat meter, Tribunalen Theater/Stockholm, and 2 times in Dansescenen/Copenhagen.